Clemente '60 Series cap worth 10s of thousands, or is it?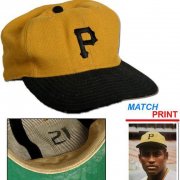 Victor Moreno Memorabilia.Expert
It was 43 years ago tomorrow that Howard G. Singer stole a baseball cap as 36,683 people stood and cheered. Yet today, Singer can't find a single witness, and this thief's inability to prove his crime could cost him close to $20,000.  Go Shopping for Collectibles Here.
Because that was Roberto Clemente's cap. Singer swears he swiped it from The Great One's head during the bedlam that followed Bill Mazeroski's home run to win the 1960 World Series.
But how can Singer prove that? A game-used Clemente cap went for $6,555 in an Internet auction last month, but that lid had no ties to the most dramatic home run in Series history. One memorabilia expert suggests that such a connection could kick the bids up to $25,000. There's just one catch.
"It's a great story, but prove it," said Victor Moreno, a Braddock boy who now lives in Las Vegas and runs Memorabilia.Expert. "He was there. I believe him. But if you think that hat is going to get 25 grand, you have to sell that story."
And so Singer, 62, has flown to Pittsburgh from La Jolla, Calif., where he has lived since 1976. He got wind of the celebration that's held each Oct. 13 beside the last remnant of the Forbes Field outfield wall, and so will join the true believers who will assemble again tomorrow afternoon to relive a game that always ends perfectly.
I sat with Singer the other day as he pulled the old cap from a box and told his story. When Mazeroski's blow cleared the left-field fence, Singer, then 19, vaulted the railing beside the Pirates' dugout. He says he was on the field before Maz reached second base, and reached out to grab the cap of a player emerging from the dugout. In the confusion, he said, he didn't even know whose it was.
He showed the relic to me. A black Rawlings cap with a gold "P," it has a size "7" stamped on the leather sweat band and the number "21" written in black marker inside. To which any skeptic would have to ask, so what does that prove?
Singer mentioned his face can be seen in the crowd of people at home plate when Mazeroski approaches. The photo is on the cover of the old record album, "The Impossible Pirates."
I called Jerry's Records in Squirrel Hill, and Jerry Weber checked his inventory. He had a copy, so Singer and I drove to the store.
Weber was waiting with a coterie of old Oakland guys who work and loaf there. He handed the album across the counter to us. In the bottom left corner was a guy in white shirt and tie who looked like a younger version of the man with the cap in the box.
Chris Kardaz looked from the record to Singer and immediately backed the claim: "We believe he took it. Look at him. He has a dishonest face."
About then I mentioned something Moreno, the Memorabilia Expert, had told me: Chuck Cirelli, who was a teenage worker in the Forbes Field clubhouses in those days, can authenticate hats like this.
Weber and the others knew Cirelli from way back. I called him at his Brookline home. He agreed to wait for us on his porch and we were there in a half-hour.
Cirelli rolled the cap around in his hands, checked the scrawled number "21," and proclaimed: "That's a good hat. [Equipment manager John] Hallahan wrote like this. And I used to write like that."
We had a Clemente hat. We had a photo of Singer at the scene. And this newspaper has a photo in which a capless Clemente waits with the throng at home plate for Mazeroski.
Singer said there's also a video celebrating 100 years of Pirates history that shows a capless Clemente on the field after Mazeroski's home run. But he'd sent that to Clemente's widow, Vera, in Puerto Rico, with a four-page letter seeking corroboration of his story. He'd never heard back. (Would you respond to a guy who claimed to have ripped off your husband in broad daylight?) So there we stand on a petty theft for which the statute of limitations ran out in 1965.
The question of whether Singer has legal title to Clemente's cap might come up if its price gets high enough, but for now we have a soft-spoken man desperate to prove a lifetime after the event that he'd been a one-time thief. Only in America is there enough spare change lying about that the day a cap was lifted from a famous man's head can mean a difference of almost 20 grand.
Singer, a retired letter carrier and a collector of antique cars, hopes to buy a four-door diesel pickup truck if he can cash out. That would be his first new vehicle in 36 years. "That's what's in this box," he said. He's leaving his cell phone number.   So will he take his treasure to the Mazeroski celebration at the old outfield wall tomorrow? Are you kidding? That cap was stolen once, and less than 500 feet away.
Brian O'Neill can be reached at boneill@post-gazette.com or 412-263-1947.
Save
Save
Save