Herman Munster Screen-Worn Suit by Fred Gwynne -Western Costume
Go Back
Starting bid: $5,000.00
Starting bid: $5,000.00
Auction ends: February 18, 2023 8:00 PM
Timezone: America/Los_Angeles
Total price with Buyers Premium: $6,000.00
Bids count: 1
Auction views:
Your max bid is $0.00
Time left:
Description
Munsters -Fred Gwynne Costume As Seen on FOX ACCESS MORE!
The Munsters was a hilarious sitcom, that aired from 1964-1966, about a family who was, for all intents and purposes, horror movie monsters. The comedy of the show was derived from their lack of knowledge about being different as well as their interactions with "normal" society.
This men's two-piece suit with side zip on the pants was worn by Fred Gwynne in his role as Herman Munster. The suit is very rare in that Munster items simply don't surface for the collecting community. For all of us who watched the Munsters over the years, this show represented delightful entertainment and was loved by millions.
They had a lot of issues on set as Fred Gwynn would sweat profusely and they would put AC hoses up his costume to try to cool him off.  they would rip the suit and they would need to get replacements quickly.
Most of the costumes did have the SEWN in Western Costume tags with Gwynn on the interior, however NOT all of them had this due to this exact issue with Replacement suits. These issues are well documented and Western Costumers should also be aware of the issues that they had on set.  The history of the suit is important so you can feel comfortable and confident with its provenance.
Here are some examples of Tagging through the years of Western Costume that had various types of stamping.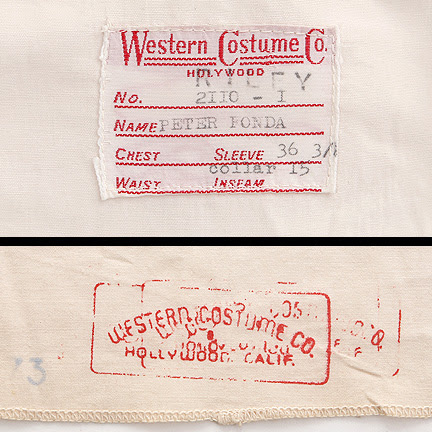 Additional information
| | |
| --- | --- |
| Weight | 10 lbs |
| Authentication | |
Scroll To Top