Yes! Buy Memorabilia and Donate Proceeds to Appreciate Covid-19 First Responders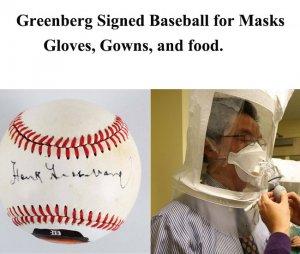 Americans in every state are showing their appreciation in many ways to our amazing first responders, grocery clerks, truckers, drivers and all those in the food supply chain industry.  Continue this effort of showing your appreciation to them by bidding on this Hank Greenberg baseball ending on April 18th.
We have already catered food into Sahara West Urgent Care clinic. This Clinic was offering COVID 19 testing and has been overwhelmed with patients coming in for testing.
We have saved Tassi the Cat.   Tassi the Cat lost its elderly owner during the COVID 19 outbreak.  Her hair was so mangled and tangled it created large painful tumor like spots throughout her back and legs.   She needs to be sedated and shaved.  She currently is at the VET getting this done.   We have gotten her a wonderful loving home.
We have been cleared to order from MacGill suppliers to order PPE for hospitals or institutions.  We have received requests from Princeton Hospital, NJ and Mountain View Hospital, Las Vegas.
The proceeds collected from this Hank Greenberg baseball will fund our continual efforts to show gratitude and appreciate to all those on the front lines, and those who keep supplies and food in our hands.
Yes, you can now bid on this Hank Greenberg Signed Baseball and if you win, you can let us know if you have a special charity, institution or hospital that you want to help and donate it to.